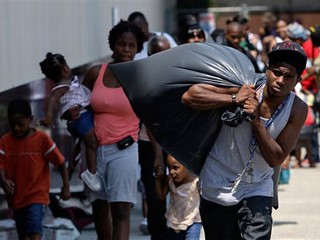 Dangerous Storm Approaches Louisiana
Mandatory Evacuation Ordered

NEW ORLEANS — Spooked by predictions that Hurricane Gustav could grow into a Category 5 monster, an estimated 1 million people fled the Gulf Coast Saturday, even before the official order came for New Orleans residents to get out of the way of a storm taking dead aim at Louisiana.

Mayor Ray Nagin gave the mandatory order late Saturday, but all day residents took to buses, trains, planes and cars, clogging roads leading away from New Orleans, still reeling three years after Hurricane Katrina flooded 80 percent of the city and killed about 1,600 across the region.

The evacuation of New Orleans becomes mandatory at 8 a.m. today along the west bank of the Mississippi River and at noon on the east bank. Nagin called Gustav the "mother of all storms" and told residents to "get out of town. This is not the one to play with."


******Important Notice********
Skywatch-Media News which operates this website is located in Baton Rouge, La. Due to the approaching storm Gustav which is expected to severely affect power supply, we anticipate that this website and our news services will be down for days and possibly for a week or more. As soon as power is restored to our area, we will continue with our news services. We hope that all those in the path of this destructive storm will remain safe and secure, and that all those in harms way will evacuate to a safer location.