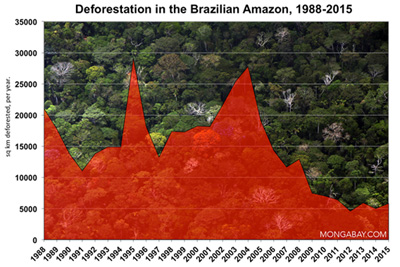 Amazon forest loss dropped from Aug 2004-Jul 2007, before nearly doubling from Aug 2007 until the end of the year.

Click the Image for more info



SAO PAULO (AFP) — Deforestation of Brazil's Amazon region is set to worsen this year, or at least remain at the same devastating level of the past couple of years, the environmental activist group Greenpeace said Thursday.
"Field studies show that there are more deforested areas than those seen by satellite, because of cloud cover. There are completely covered area that have not had satellite imagery for four years," one of its members, Paulo Adario, told reporters in Sao Paulo.
Greenpeace said Brazil's government was largely to blame for the stripping of the forest, having fallen short in a preservation program because of "a lack of executive and political coordination."
Brasilia has been cracking down on illegal logging and land-clearing in the Amazon since revealing that its vast forest -- sometimes called the lungs of the Earth for its role in absorbing carbon dioxide -- had lost another 7,000 square kilometers (2,700 square miles) in the last half of 2007.