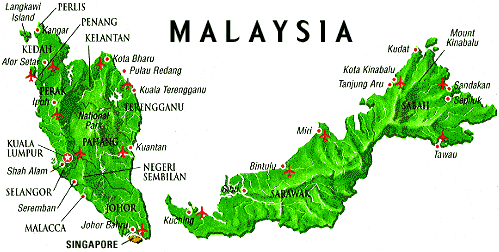 Malaysia
Click on the Map to Enhance
June 28, 2007
KUCHING: Traditionally, it is now the time for the start of the drought and haze season in Sarawak.But it rains almost everyday here and in some other parts of the state.
Deputy Chief Minister Tan Sri Dr George Chan Hong Nam said this was abnormal as the weather now had become very unpredictable.
``Because of the El Nino, the weather pattern has changed.
``We expect the rains to be heavier towards the end of the year,'' he told reporters on Thursday.
Dr Chan, also state disaster relief committee chairman, said unpredicted heavy rains and thunderstorms had caused flash floods in Miri and other towns.
He said local councils should check on drains in the cities and towns to ensure that these were not blocked by rubbish.
Flood warning systems, he said, were put in place in flood prone areas.