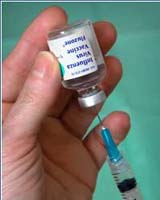 Breaking News: Flu Pandemic Alert

New York NY (SPX) Nov 13, 2006
Experts believe the world is overdue for influenza pandemic. However, unless effective action against pandemic flu is taken now, we are in "dire straits," according to a paper published in the November 10 issue of Science. The articled titled, "Next Flu Pandemic: What to Do Until the Vaccine Arrives?," calls for research during the regular season flu season to better understand the effectiveness of non-pharmaceutical interventions such as social distancing, hand washing, face masks, and the like.
"These are ironically similar to the measures used in 1918 to combat the greatest of all known influenza pandemics, but there's a lot we don't know about what may very well be our best defenses," says lead author Stephen Morse, PhD, associate professor of Clinical Epidemiology in the Department of Epidemiology at Columbia University's Mailman School of Public Health.
According to Dr. Morse, unfortunately, there are no readily accessible compendia of best practices or even comprehensive databases of community epidemiologic data, which might help to design the most effective interventions. "As the weather turns cold and the regular flu season is upon us, there is an opportunity to prepare and move ahead with community studies and clinical trials in humans."