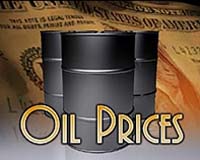 London (AFP) Oct 31, 2006

Climate change, the subject of a key independent report published this week, could push oil prices lower in the long term as warmer air reduces demand for heating fuel, analysts said on Tuesday. They added that attempts to combat global warming, particularly by taxing certain forms of transport at a higher rate, could also dampen demand for gasoline or petrol, jet fuel -- and crude oil.
The Stern Report, released this week with the backing of British Prime Minister Tony Blair, found that unchecked global warming could destroy five-to-20 percent of global gross domestic product every year unless economic measures were quickly taken.
"Over a longer period of time, global warming could potentially reduce consumption and have an (oil) market impact," said Global Insight analyst Simon Wardell.
He added: "In theory, you could have warmer weather, which might reduce demand for the winter months.
"Probably more significant is the fact that there may be some moves to try and reduce carbon emissions, by taxing fuels and jet travels for example, which may lead to reduce actual consumption or at least slow demand growth.