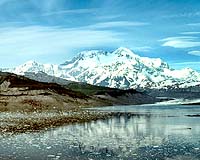 Fairbanks AL (SPX) Oct 13, 2006
A first-of-its kind analysis of fifty years of remotely sensed imagery from the 1950s to 2002 shows a dramatic reduction in the size and number of more than 10,000 ponds in Alaska. The analysis, by University of Alaska Fairbanks scientists and published this week in the Journal of Geophysical Research, indicates that these landscape-level changes in arctic ponds are associated with recent climate warming in Alaska and may have profound effects on climate and wildlife.

National Wildlife Refuges cover more than 77 million acres in Alaska and make up 81% of the national refuge system. These refuges provide breeding habitat for millions of waterfowl and shorebirds that overwinter in more southerly regions of North America.